Login or create an account to get started

The Great PSoC 6 Design Challenge
Previously, we partnered with Cypress (now an Infineon Technologies company) for the Bluetooth 5 IoT Design Contest. The projects submitted blew us away, testament to both our awesome maker community and the excellent hardware offered by Cypress. As such, we're thrilled to once again collaborate with Cypress for the Cypress Design Contest, sponsored by Mouser and Cypress. This time, we've got 50 PSoC 6 Dev Kits (multiple choices – see below) to give away!.
How do I take part?
Participating in the PSoC 6 MCU Challenge is pretty easy. First, you'll need to think of an embedded IoT project to build with the PSoC 6 MCU. This flexible, low-power, and secure MCU was designed from the ground up with embedded IoT developers in mind – from its hardware architecture to the software enablement we have provided so that you have a delightful user experience. This challenge will feature an array of PSoC 6 Development Kits you can choose from (see below) that will enable you to bring your most innovative ideas to life. Each kit comes with support for easy-to-use code examples hosted on GitHub, showing you how to add compelling features to your PSoC 6 project, such as:
Touch-Sensing: PSoC 6 features the industry-leading capacitive-sensing technology, CapSense® along with support for an easy-to-use configurator software tool
Graphical Displays: PSoC 6 MCUs can drive graphical displays such as TFT or E-Ink displays (our kits even come with them) along with code examples showing you how
Wireless Connectivity: PSoC 6 works seamlessly with our renowned Wi-Fi connectivity as well as integrated Bluetooth-Low-Energy (BLE) options so you can easily connect your project to cloud services, a smartphone app, a web dashboard, and more
Sensor Processing: The PSoC MCU architecture for more than a decade has been known for rich, programmable analog and digital peripherals. These are more flexible than ever in PSoC 6 so you can connect the real and digital world
Audio and Voice: PSoC 6 provides support for Alexa Voice Service Integration for AWS IoT Core (AIA) enabling intelligent Alexa voice and audio services on resource-constrained PSoC 6 based systems.
Then, submit your project proposal with some of the features listed above! If you're selected, we'll send you a kit. After that, it's time to begin turning your idea into a reality by creating your project and documenting the build right here on Electromaker. Finally, eagerly await the winners to be announced and see if you've won!
How to participate in the Great PSoC 6 Design Challenge:
Pitch a project idea that uses one of the PSoC 6 Dev Kits featured below and that uses the ModusToolbox™ Software Environment
Receive your board
Register for a free Electromaker account and build your project/document it on Electromaker
Check back on Jan. 11th to see the winning projects

Please note the free hardware period has now ended.
Prize List

The stakes are extremely high. Aside from bragging rights, the most important part of the contest, you've got the chance to win cash prizes. First prize is $1,000 USD, 2nd prize is $500, and 3rd prize is $500. And you've got the chance to get free PSoC 6 Dev Kits, if you're chosen as a contest participant.
Prizes:
First Prize : $1000
Second Prize : $500
Third Prize : $500
Take Part in our Cypress Make with PSoC 6 Contest
Please log in or signup to submit your project idea to us!
Sponsored by

Timeline
Get your ideas ready and pitches submitted! Best of luck, and may the odds be ever in your favor!
Applications: Sept. 30-Nov. 1, 2020
Kits shipped by: Nov. 13, 2020
Project creation phase: Nov. 13, 2020 - Feb. 1, 2021
Project submissions due on: Feb. 1, 2021
Winners announced: Feb. 8, 2021
What PSoC 6 MCU Dev Kit Can You Choose From?
Since the PSoC 6 MCU launch in 2017, multiple PSoC 6 MCU Dev Kits have been developed to enable innovative ideas for a range of developers. There are smaller form factor "Prototyping Kits" as well as more full-featured "Pioneer Kits" all coming with wireless connectivity, CapSense, sensors, and the ability to expand to off-the-shelf shields for added functionality (the Pioneer Kits even come with Arduino® display shields).
See below for a diagram of each kit (with a link to Mouser for more information). We are excited to see what you come up with!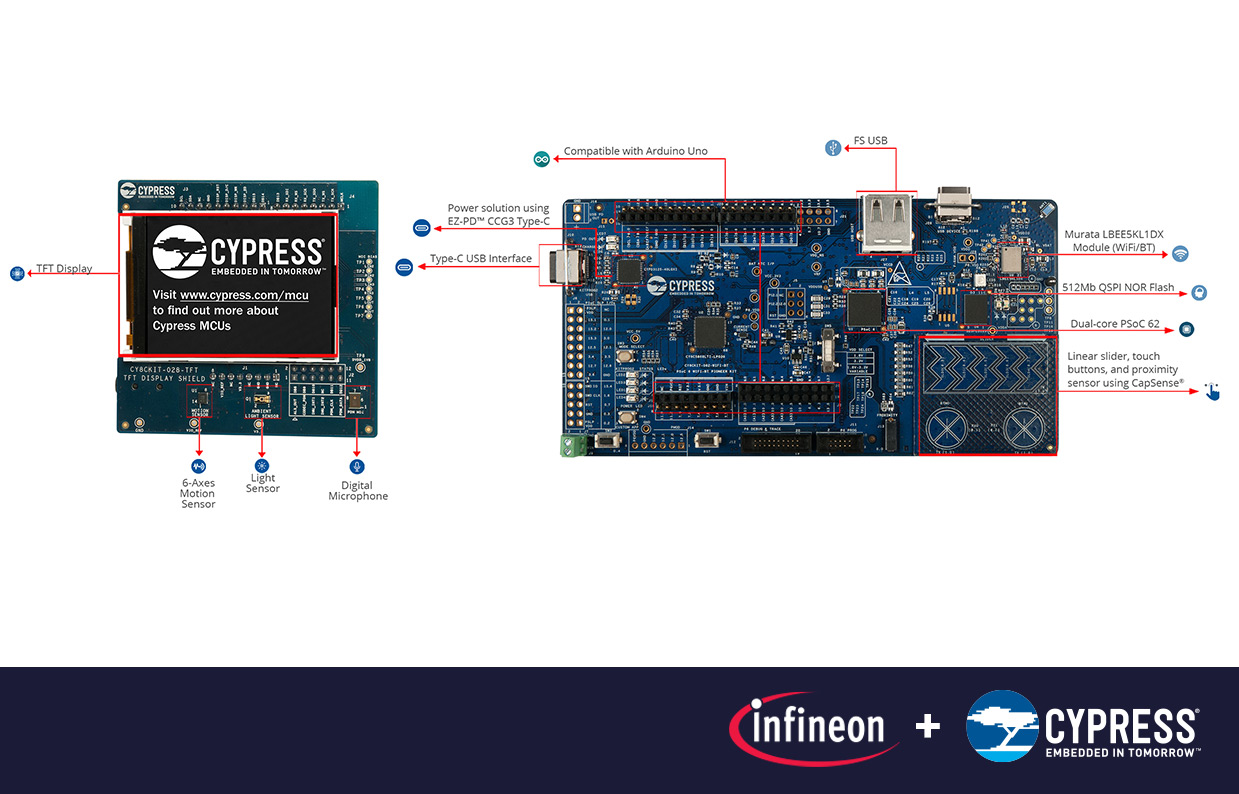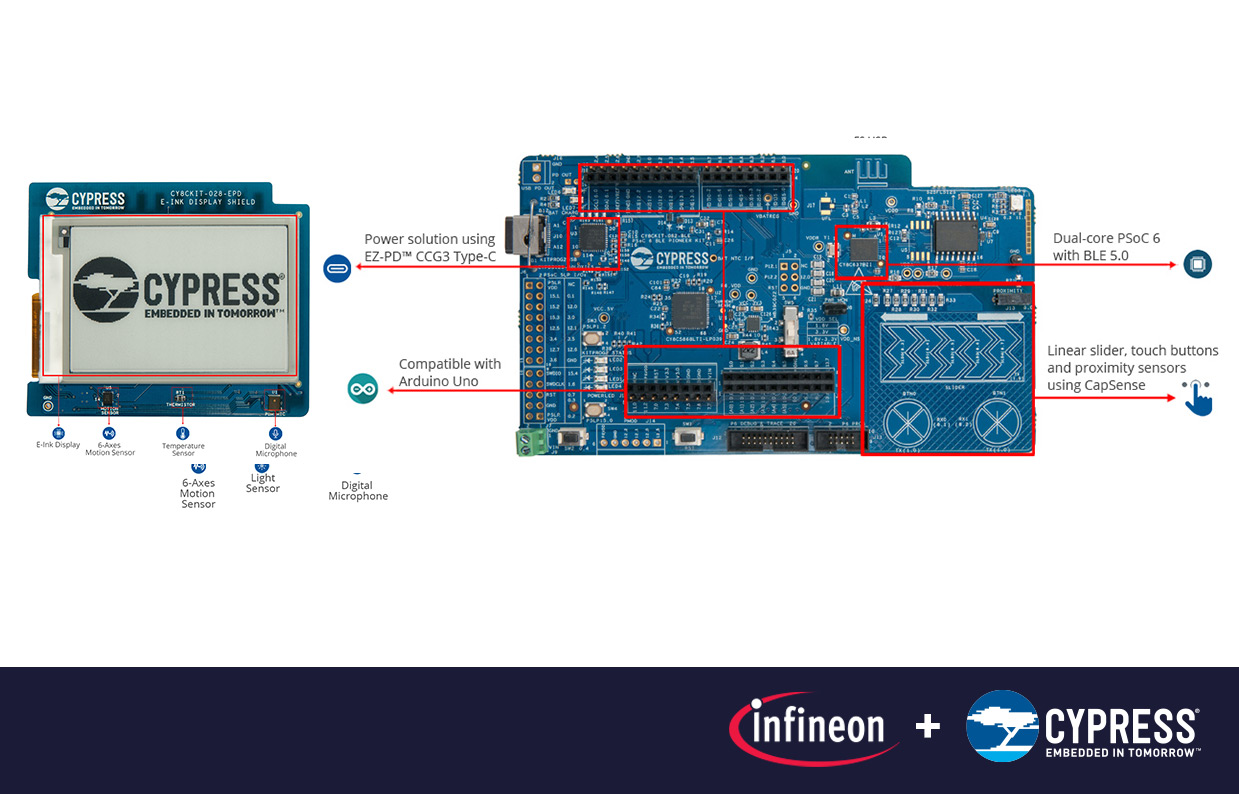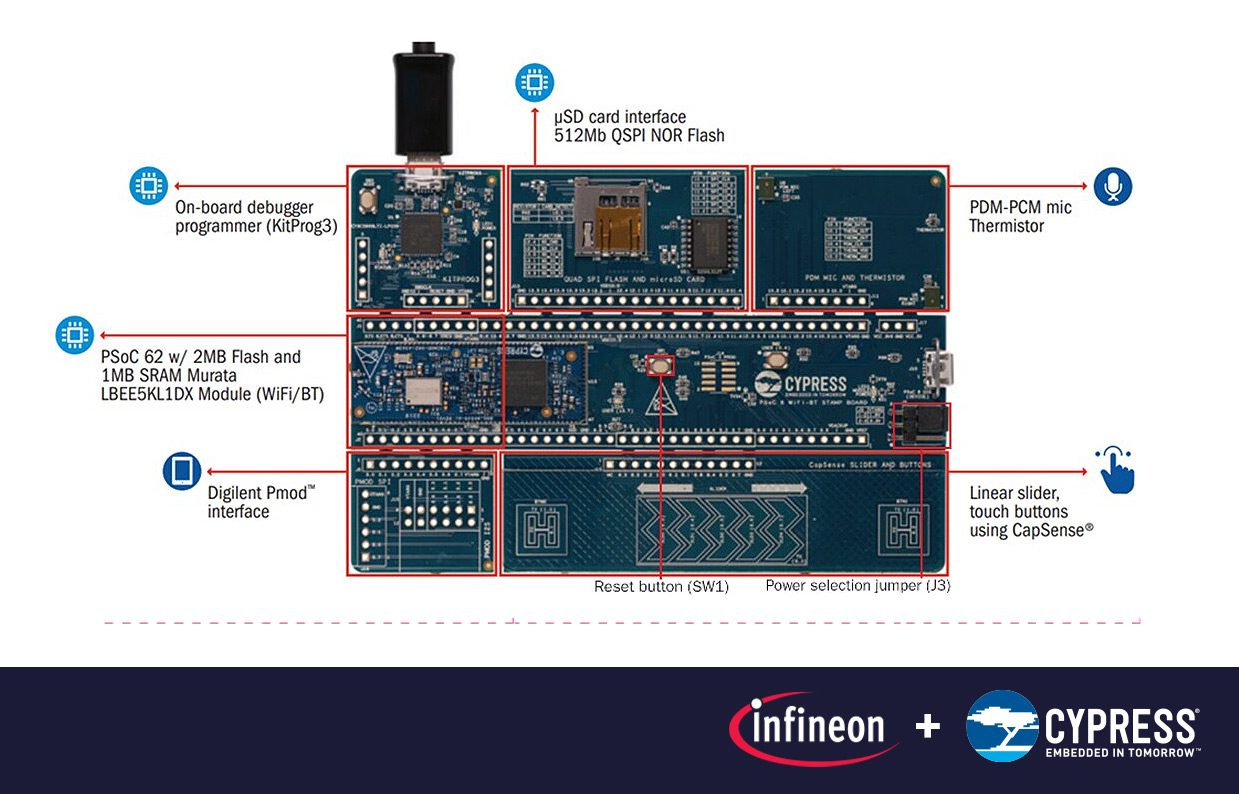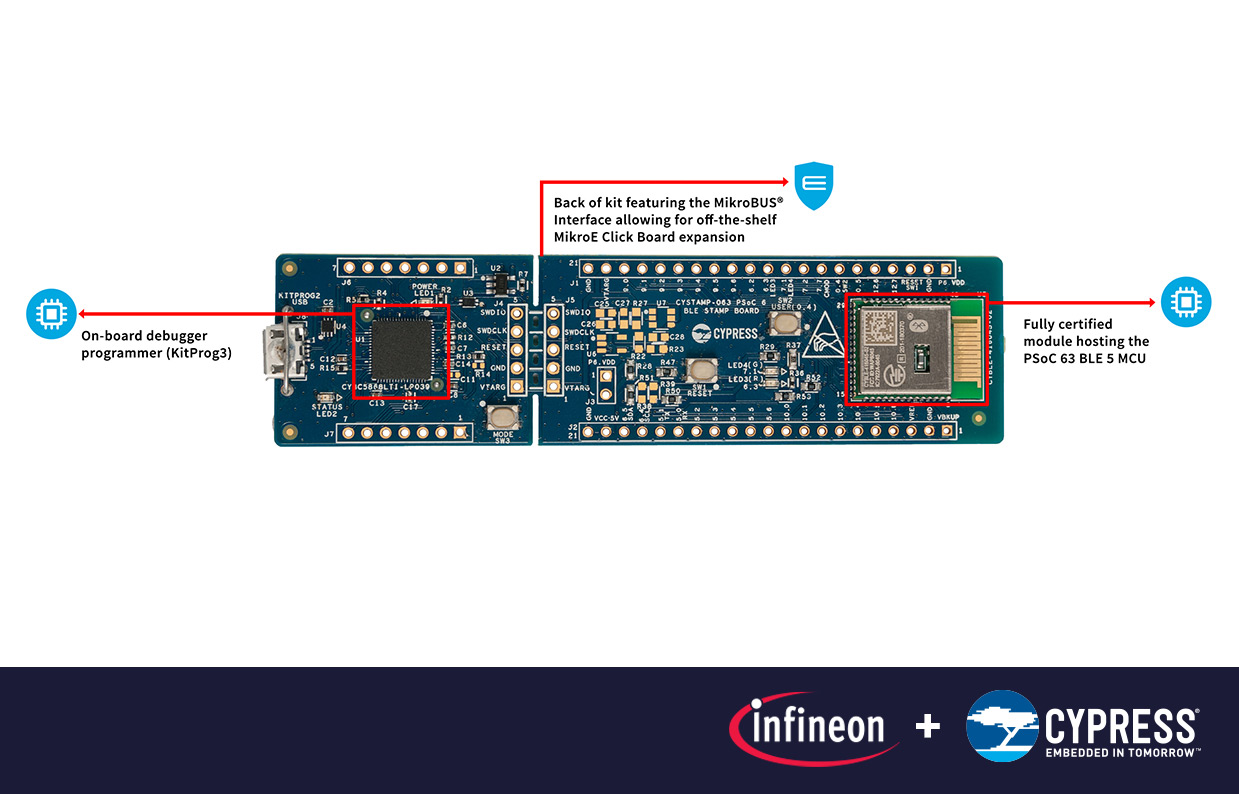 Software and Resources
The software environment you should use for this design contest is: ModusToolbox™. The ModusToolbox Software Environment is the ideal software platform to create IoT MCU and Wireless designs. Think about ModusToolbox as a collection of firmware libraries (BSPs, middleware, examples, and more) and tools that you can easily arrange to suit the needs of your PSoC 6 project. ModusToolbox allows you to bring your PSoC 6 idea to life. Take advantage of our intuitive configurators that allow you to easily setup system functions, configure and tune CapSense hardware applications, setup and write to displays, and configure connectivity settings for Wi-Fi, Bluetooth, and USB. ModusToolbox also provides a world-class integration of 3rd party ecosystems such as Mbed OS and FreeRTOS for AWS IoT cloud services. There are a plethora of easy-to-use code examples on the Cypress GitHub Repository that show you how to take advantage of all these features and development flows.
Start with one of our example projects, using the Project Creator to get started. You can use the command line to quickly export the output to Visual Studio Code, Embedded Workbench, mVision, work from the command line, or use the Eclipse IDE for ModusToolbox. The end result is the same, you get to work in your preferred environment.
Download the ModusToolbox Software Environment (available on Windows, Linux, and macOS), check out the resources below, and get started now! If you are unfamiliar with ModusToolbox as a whole, or one of our supported ecosystems, check out the extensive ModusToolbox 101 Training Material available on GitHub.
Technical Resources: