Microchip IoT Contest
Please note: The free hardware period has now ended, however, you can still enter the contest using your own Microchip AVR-IoT WG Development Board.

Electromaker and Microchip have teamed up to give you the opportunity to get your hands on the latest Microchip AVR-IoT WG Development Board. We want you to show us what you can build using the new Microchip AVR-IoT board and answer the following question:

What data would you send to the Google cloud and why?

With the launch of the new Microchip AVR-IoT WG Development Board, it is now easier and quicker than ever to send data securely to the Google cloud. Once you have your board, you can get connected to the Google IoT Cloud in 30 seconds flat! This development board is pre-configured to transmit light and temperature data to the cloud, allowing you to start collecting data instantly.

We are giving away a FREE Microchip AVR® based IoT Evaluation Board to the first 100 people that submit their project ideas to us!
Take Part in our Microchip IoT Contest
Please log in or signup to submit your project to the contest!
Sponsored by

Contest Brief
We are giving away 100 of these boards to the people that would like to take part in our contest.
All you have to do is submit your contest project proposal (around 150 words). Let us know what practical application you have for this board and we will send you one to experiment with. Some applications might include:

Smart Home, Building Automation - Intelligent Lighting
Access Control, Climate Control, Energy Saving

Smart Cities
Air Quality, Traffic Forecasts, Traffic Modulation

Health
Blood Pressure, Heart Rate, Oxygen Level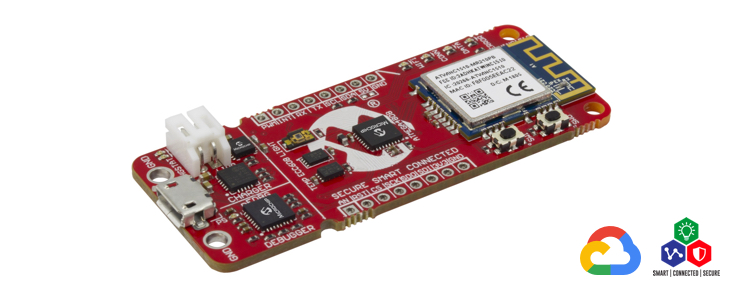 Prize List
There are three great prizes that will be awarded to the best project entries. These include:

First Prize
One place at Microchip MASTERs 2019 in one of the following locations: USA/ Europe / South America / China / India / Taiwan / S.Korea. The premier technical training event for embedded control engineers around the globe. The MASTERs Conference continues to arm system design engineers of every level with extensive product information and hands-on training to help you scale the learning curve and get your products to market faster. Classes cover a broad range of topics and are taught by Microchip's application and design engineers.

Second Prize & Third Prize
Hardware bundle
Curiosity PIC32MZEF Development Board
MPLAB® Snap Debugger
Arduino Uno Wifi
5 x connectors and shields:
MIKROE-1581
MIKROE-2670
MIKROE-2379
MIKROE-924
MIKROE-2544


What do I need to do?
Firstly, if you haven't done so already,

register for an Electromaker account

.
Apply for your free Microchip AVR-IoT WG Development board using the

application form

. Free hardware period has now ended.
Once your application has been approved, your board should be delivered within one week.
Once you have your board, start building your project.
Login to your account and document your work using the project upload form.
Timelines
Application for free hardware opens: 30th November 2018
Project submissions open: 30th November 2018
Deadline for free hardware applications close: 1st January 2019
Deadline for project submissions: 31st March 2019
Winners announced: 1st May 2019